The Bizarre Naming Trend That Will Leave You Completely Confused
Imagine that you have a kid. You name her Emily. She grows into a happy little toddler and you find yourself pregnant again with another girl. This is the point at which most of us would start thinking of a name for the new baby. Unless of course you're one of the people who adheres to the naming trend of giving your kids the same name.
The convention was far more popular when children were more likely to die in infancy, and in some places it was completely normal to name a child after a deceased sibling. Perhaps the most famous same name sibling was Ludwig Van Beethoven, who had an older brother also named Ludwig. Older Ludwig didn't live past infancy, so when little Ludwig came along a year later, his parents used the same name. Same naming was practiced throughout Ireland, England, and the Netherlands, and researchers believe that same name siblings were even fairly common when both children lived into adulthood. The practice was especially common in Scotland, where it stayed popular until the 19th century, and some evidence suggests that over a third of families had same name siblings.
Confusing? Maybe, but also not unheard of in the modern era.
Take for example NBA Mavericks player Charlie Villanueva. He's the odd man out in his family as his three older brothers are all named Robert.
Or there are the brothers who play for the minor league baseball team the West Michigan White Caps. They've been confusing fans and commentators everywhere with their names: Luis Sanz and Luis Sanz.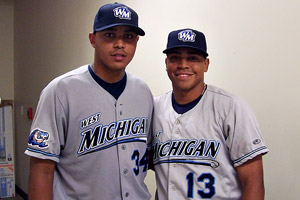 Or the most famous example, World Heavyweight Boxing champ George Foreman who appears to have a real narcissism problem as he named all five of his sons George. He even went one further and has a daughter named Georgetta as well as one named Freda George.
But these are all people whose parents chose to have same name siblings. Now that blended families, step-families, half-siblings, and other variations on the traditional nuclear family are becoming more common, the question of same name siblings has become even more complicated. Take this Guardian piece about the Ashworths, a blended family with two daughters named Molly. Each Molly was named separately, when the families hadn't even met. But when their parents met and married, they had to navigate two Molly Hills in a world made for one.
Somehow all these folks make it work. At least they didn't name their kid Daisy Boo or Audio Science.