The 7 Best Films of 2014 You Might Have Missed
Snowpiercer 
dir, Boon Joon-Ho
Boon Joon-Ho (The Host) directs, possibly, the best science fiction film of the last five years and possible one of the best films of the year.  After the apocalypse, a train that never stops circles the Earth with all of the survivors on board.  We just can't stop screwing with the planet, and, after we try to counter-act global warming, we cause the next Ice Age.  Chris Evans (Captain America), Tilda Swinton (Grand Budapest Hotel), and John Hurt (Harry Potter) star in this adrenaline-charged tale of classism.  The higher your social class, the closer you are to the front of the train, but when the lower class survivors are tired of segregated, the lower class survivors fight their way to the front.
Blue Ruin
dir. Jeremy Saulnier
Funded by a successful Kickstarter campaign, Jeremy Saulnier's Blue Ruin is exactly the type of adult film that Hollywood does not make any more in favor of big-budget action spectacles.  A tense, grim, slow burning revenge film kicks Taken's butt.  A drifter heads back into town to exact cold-blooded revenge only to wind up defending his estranged family.  I will put Saulnier's Blue Ruin against any pundits "Best of" list for 2014.  Blue Ruin is a masterpiece and one of the best directed and best shot films of 2014.
The Double
Hands down, 
The Double 
is my favorite film of 2014.  From British sitcom star Richard Ayoade (
The IT Crowd
), 
The Double
stars Jesse Eisenberg (
The Social Network
), Mia Wasikowska (
Alice in Wonderland
), and Wallace Shawn (
The Princess Bride
).  Ayoade's indie film debut 
Submarine 
proved Ayoade to be a very good director, but with 
The Double 
Ayoade proves he is a major director to watch for.  Simon has an unfulfilling job, no luck with his pretty neighbor, and an awful, mediocre life, but then he meets his new co-worker, James.   James is an exact physical double of Simon except James is confident, funny, and successful.  Simon tried to befriend James, but it isn't long before James destroys Simon's life bit-by-bit.  Terry Gilliam directed 
Zero Theorem 
this year as well, but Ayoade out Gilliam-ed Terry Gilliam with 
The Double
.  Go see 
The Double 
now, please.
Dance of Reality
Alejandro Jodorowsy is an iconoclast that directed some of the most controversial, influential cult films of the 20th century, and he deserves to be discussed in the same conversation as Luis Bunuel, Louis Malle, and Paolo Pasolini.  After directing the great El Topo and Holy Mountain, Jodorowsky embarked a long, enlightening production adapting Frank Herbert's Dune, a film that was never finished (I wrote about Dune here).  After 23 years without a film, Jodorowsky made The Dance of Reality.  This quasi-autobiographical, surrealist film proves that Jodorowsky has not lost any of his subversive, controversial touch.  Taking on politics, communism, religion, atheism, sex, incest, sexuality, fantasy, and death in a coming-of-age tale, The Dance of Reality is, without a doubt, Jodorowsky's best film.  Warning: not for those with a weak stomach, prone to nightmares, too conservative, children present.  Oh, yeah, this is not a couple's film either.
Only Lovers Left Alive
I cannot stop talking about Only Lovers Left Alive (as evidenced by this article).  Jim Jarmusch is a master filmmaker, and no one can deny that.  Stranger Than Paradise, Mystery Train, Down By Law, Dead Man, and the list goes on with even more great films, but one more great film, a masterpiece, needs to be added to that list, Only Lovers Left Alive.  Starring Tilda Swinton (Snowpiercer), Tom Hiddleston (Thor, The Avengers), and Mia Wasikowska (Alice in Wonderland, The Double),  Only Lovers Left Alive is a subversive, stylish vampire film about Adam and Eve, immortal vampire artist lovers, that are reunited only to have their lives torn apart by Ava, Eve's vampire sister.  A film about the mundaneity of immortality sheds the scares for philosophy, and it's better for it.
Trip to Italy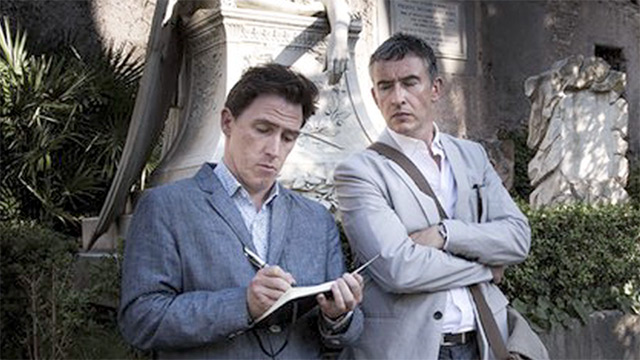 The worst part about Michael Winterbottom's food porn and comedy film The Trip was that it ended.  Seriously.  One of the funniest films of 2010, The Trip stars two of the funniest guys in the UK in Steve Coogan and Rob Brydon.  The Trip Italy is essentially The Trip, well, in Italy, but that is exactly what it needs to be.  These two men eat six meals on a tour of Italy including Rome, Tuscany, Liguria, Amulfi, and Capri.  A buddy movie, a road movie, a food movie, The Trip to Italy is one of the funniest films of 2014, but you need to watch it on a full stomach, hopefully with good Italian food.
Borgman
Following The Trip to Italy, warning, this is not a comedy.  Borgman, while it has some really, really dark comedy, is not the least bit funny.   The entire film feels like you are watching it in a haze induced by some unknown narcotic slipped into your drink by Michael Haneke.  The plot is deceptively simple.  A vagrant, drifter enters the home of an affluent couple only to slowly destroy their lives.  That sentence does not describe Borgman.  At times Fellini-esque and Carpenter-like, Alex Van Warmerdam's Dutch import is a tough, slow burn of a movie that will leave you speechless long after the credits roll.  Warning: that speechlessness might last longer than intended – perhaps days, months, or even years.