This year, there are a lot of firsts when it comes to Academy Awards nominations. Actors such as Benedict Cumberbatch, Eddie Redmayne, and Emma Stone receive their first ever nominations, Robert Duvall, succeeds Hal Holbrook as the oldest male acting nominee, and Disney continues its third consecutive year for Best Animated Feature nomination (last year being Frozen). With all this exciting news, let's look at some other ground-breaking records in Academy Awards history.
Highest Sweep (Winning every nominated category)
The Lord of the Rings: The Return of the King won all 11 categories for which it was nominated in 2003, including: Picture, Director, Adapted Screenplay, Original Score, Original Song, Sound Mixing, Art Direction, Makeup, Costume Design, Film Editing, Visual Effects
Most awards won by a single film
Ben-Hur, Titanic, and The Lord of the Rings: The Return of the King each won a total of 11 Academy Awards.
Most awards won by a man
Walt Disney won 22 Oscars in his lifetime. Disney also holds the record for the "most nominations for a person" with a whopping total of 59 nominations!
Most awards won by a woman
Edith Head won eight Oscars, all for Costume Design. Some of her notable wins were for Audrey Hepburn classics such as Roman Holiday in 1954 and Sabrina in 1955.
Youngest winner of an acting award
Tatum O'Neal became the youngest Oscar recipient in 1974, when she won Best Supporting Actress at age 10 for her role in Paper Moon. The same year she won a Golden Globe for Best Promising Newcomer in the female division.
Oldest winner of an acting award
Christopher Plummer's award for Best Supporting Actor in the movie Beginners in 2011, made him the oldest winner of an acting award at the age of 82. This was his first Oscar win.
Actress with most total nominations for acting
Meryl Streep, of course! This famous leading lady has the most nominations for an actress (and actor) with a total of 19 nominations. Even though she's been nominated time and time again, she's only won three.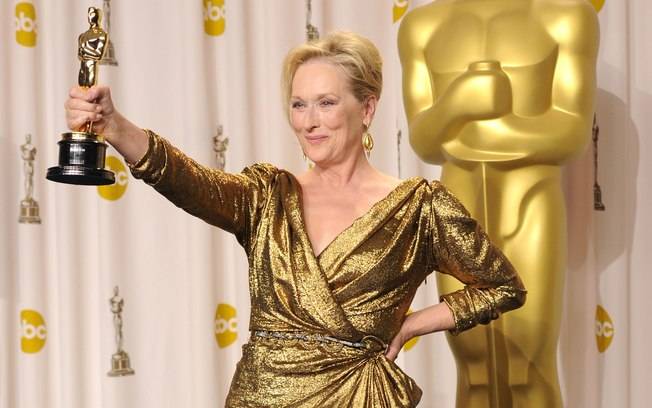 Actor with most total nominations for acting
Jack Nicholson takes the male lead with 12 nominations for acting. Out of these he has won a total of three.