9 Most Hated Best Picture Winners
While it has its critics, The Academy Awards are one of the most anticipated events every year. Personally, I love them, but even I understand the academy is fallible, and sometimes the academy is more fallible than some give it credit. Here are nine times that the Academy got the Best Picture award so wrong that the winners became truly hated.
Crash (2005)
Dir. Paul Haggis
Ang Lee's Brokeback Mountain won over critics and audiences alike and will be recognized as one of the best films of the 21st century's first decade. Unfortunately, it will not be remembered as a Best Picture winner. That award went to Crash. Where Brokeback Mountain feels poignant, artistic, and real, Crash feels heavy-handed, misguided, and pretentious. A.O. Scott of the New York Times agrees. "So much feeling, so much skill, so much seriousness, such an urgent moral agenda — all of this must surely answer our collective hunger for a good movie, or even a great one, about race and class in a modern American city. Not even close."
Oliver! (1968)
dir. Carol Reed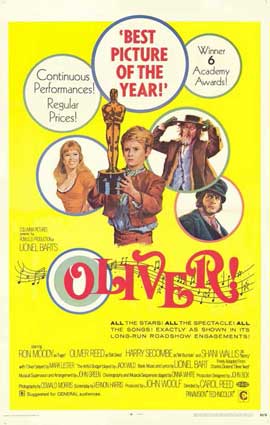 Rosemary's Baby and 2001: A Space Odyssey have at least one thing in common – they both were snubbed at the Oscars in favor of Oliver!. Carol Reed is an excellent director, having directed the masterpiece The Third Man starring Orson Welles, but his Oliver Twist musical is only decent. That is a big problem when Oliver! won Best Picture over such excellent films in such an important year for film. The film is simply too big and too loud for such a small, personal story. One of the greatest film critics of all time, Vincent Canby, said, "The focus of the movie is so wide, and the logistics of the production so heavy, that Oliver himself, dutifully played by 9-year-old Mark Lester, gets flattened out and almost lost, as if he had been run over by a studio bulldozer."
The King's Speech (2010)
dir. Tobe Hooper
The Social Network was the critical and audience favorite film of the year, but the temptation of a biopic (especially a biopic with a disability) is too strong for the academy. The Social Network had the best cast performances, best score, and excellent direction, but The King's Speech had Colin Firth with a stammer. Biopics are pretty bad sometimes, but the academy is typically jaded. Manohla Dargis of The New York Times said, "(The King's Speech is) Too ingratiating to resonate deeply."  
Dances With Wolves (1990)
dir. Kevin Costner
For years, it seemed like Martin Scorsese would never win an Oscar. With snubs for Taxi Driver and Raging Bull, Goodfellas seemed like Marty's Oscar to lose. Well, he lost. Instead, Kevin Costner's Dances With Wolves found some love by the academy. This type of heavy-handed, dull film reigned supreme through the 90s (ahem, Forrest Gump). Vincent Canby had his own problems with Dances with Wolves. "Its triumph is that it is never exactly boring, only dulled. It's a movie in acute need of sharpening."
Shakespeare in Love (1998)
dir. John Madden
Saving Private Ryan was Steven Spielberg's tribute to war film and realism, and Tom Hanks gave a career performance. Unfortunately, style over substance was the taste of the late 90s, and John Madden's Shakespeare in Love looked way better than it was. The silliness was a little much for some, and critics seemed to like the film, but come on – Shakespeare in Love is the original The Artist – stylistically brilliant but overall a mess.
Forrest Gump (1994)
dir. Robert Zemeckis
Pulp Fiction and Four Weddings and a Funeral are masterpieces that get constant play on many fans' televisions. The problem is that Tom Hanks and Robert Zemeckis were too much for the academy to ignore. At the time, Forrest Gump was revered for its use of CG and green screen, but the tech was given too much credit. The reverence to the character and the power of nostalgia make the film seem underwhelming. Owen Gleiberman of Entertainment Weekly had an issue with the historic scope. She said it "reduces the tumult of the last few decades to a virtual-reality theme park: a baby-boomer version of Disney's America."
The Greatest Show on Earth (1952)
dir. Cecil B. DeMille
Style over substance is not a new trap for the academy. In fact, The Greatest Show on Earth is a perfect example. With heavyweights like High Noon and The Quiet Man, it is amazing that the oddly terrible Cecil B. DeMille film took Best Picture. Big, bold, and brash, The Greatest Show on Earth relied too much on its spectacle, and the academy fell in love.
The English Patient (1996)
dir. Anthony Minghella
Fargo is hands-down one of the best American films ever made. The Coen Brothers knocked it out of the park with a superb film is nearly all aspects. The Best Picture Oscar went to The English Patient. Based on a heavy, self-important novel, the film was just as heavy and self-important. The gorgeous cinematography, score, and solid performances were too attractive for the academy. The Orlando Sentinel's Joy Boyar said, "It's the sort of solemn production that is often mentioned as an Academy Award contender. This says less about the quality of the film than it does about its self-consciously lofty tone and its sense of self-importance."
How Green Was My Valley (1941)
dir. John Ford
The ultimate snub goes to Citizen Kane. Topping almost every greatest-film-of-all-time list, Orson Welles's Citizen Kane is a game changer and masterpiece of all levels. The truly important films do not always receive kind of acknowledgment they deserve. In this case, a film giant made the academy salivate. John Ford's How Green Was My Valley is a nice enough film, but, come on, it is so minor and insignificant compared to the powerful Citizen Kane. It is the most hated Best Picture winner of all time.