8 Facts You Didn't Know About Dean Smith
Well-known basketball coach Dean Smith died this weekend after battling dementia for years. Not only was he known for his remarkable work, he was also known for his high moral integrity and loyalty for those around him. As we remember the loss of this great basketball legend here are a few facts about Dean Smith you may not have known.
1. He offered a scholarship to UNC's first African American player, Charlie Scott. 
Dean Smith was a strong advocate for civil rights and in 1967, Smith broke color barriers when he offered Charlie Scott a scholarship to play at UNC. Scott would then go on to be a two time All-American and help the Tar Heels to two consecrative NCAA Final Four appearances.
2. He led the Tar Heels to the Final Four 11 times.
Not only did he lead his team to 11 Final Fours in the NCAA, he also led his team to 13 ACC Tournament championships, and two national championships.
3. He was inducted into the basketball Hall of Fame in 1983.
Aside from being named Coach of the Year multiple times, in 1983, Dean Smith was enshrined into the Naismith Memorial Basketball Hall of Fame.
4. He is only one of two people to both play (Kansas) and coach (UNC) on a NCAA Basketball Champion (Kansas). 
While Dean Smith is highly known for coaching UNC basketball, he also played for Kanas in his college years. The only other coach to do this is Bobby Knight.
5. He coached the U.S. to the 1976 Olympic gold medal.
So not only did he lead his team to victory multiple times, he also brought home the gold when he coached the U.S. team in the 1976 Olympics.
6. He innovated the four-corner offense, run-and-jump defense and foul-line huddle in basketball.
Not only was he a great coach, he helped reinvent how we play basketball today by designing these key basketball strategies we use today.
7. He coached big basketball legends.
Most players say that Dean Smith was like a second father to them. Some of his most notable players are: Michael Jordan, Billy Cunningham, James Worthy and Vince Carter.
8. He was awarded with the Presidential Medal of Freedom in 2013 by President Barack Obama.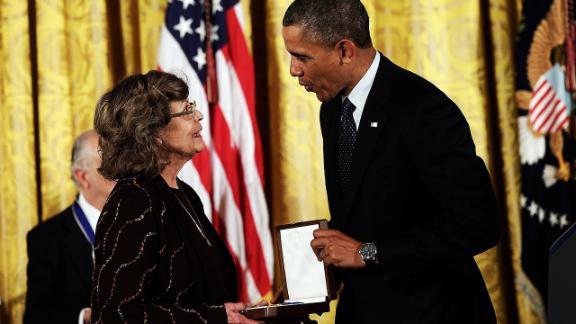 In 2013, was recognized for his achievements alongside other recipients former President Bill Clinton and Oprah Winfrey. Due to his illness, Smith's wife attended the ceremony in his place.