7 Weird Writers Who Inspired The Even Weirder HP Lovecraft
HP Lovecraft, the master of the macabre, is pop culture deity.  His Cthulhu mythos has become the inspiration of countless writers, filmmakers, painters, animators, comic artists, and even philosophers.  With a maddeningly broad reach, Lovecraft's writing is often considered entirely unique, but when studying the writers that inspired him, it is possible to follow a trail of breadcrumbs that lead to Lovecraft's magnificent writing.
Clark Ashton Smith
The man that Lovecraft called "the American Baudelaire," Clark Ashton Smith is a magnificent horror-fantasy writer with an eye for the macabre not unlike Lovecraft's.  Along with Lovecraft, Smith (and Robert E. Howard) was the three most important contributors to the iconic Weird Tales magazine.
Read: The Rendezvous of Averoigne
Lord Dunsany
Edward Plunkett, the 18th Baron of Dunsany, was an Irish dramatist and writer of fantasy.  While his later work was ironic and humorous, Lovecraft preferred his earlier, stranger fiction.  Though Lord Dunsany wasn't much of a fan or horror, his work inspired Lovecraft more than anyone except Poe.  In fact, most of the writers of list were greatly inspired by Dunsany.
Read: A Dreamer's Tales (Lovecraft's favorite)
MR James
A master of the ghost story, MR James's gift, according to Lovecraft, is his ability to weave terror and the macabre into everyday life.  The intricacies of our daily routines and household happenings are invaded by the horror that comes with ancient ghosts.  It is obvious the link between the two authors.
Read: Collected Ghost Stories
Robert W Chambers
Robert W Chambers is not a name that was too familiar prior to 2014, but HBO's True Detective changed that.  With references to Carcosa, the King in Yellow, and a tone that is undeniably similar, Chambers The King in Yellow has become part of the collective pop culture consciousness, and it is for the better.  Lovecraft called it "tremendous" and "one of the greatest weird tales ever written."
Read: The King in Yellow (that's more a demand than a suggestion)
Algernon Blackwood
"Aside from Poe, I think Algernon Blackwood touches me most closely."  If that's not a strong vote of confidence I don't know what is.  Blackwood has become more popular in recent years with outspoken fan Guillermo Del Toro speaking of the author's greatness often.  Blackwood's unique view of alternate worlds, dimensions, and human illusion inspired many artists, but Lovecraft brought his ideas into the mainstream.
Read: "The Willows" and "The Wendigo"
Arthur Machen 
My personal favorite on this list, Arthur Machen is a master fantasist and horror writer.  Lovecraft wrote, "Machen is a titan – perhaps the greatest living author – and I read everything of his."  Lovecraft adored his use of fear and abnormality in his stories and worked hard to match it. Machen's terrors were often tangible horrors that exist in the real world of his characters, much like Lovecraft's.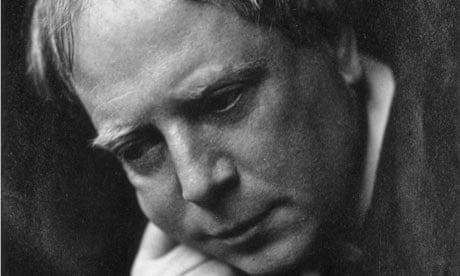 Read: "The Great God Pan," "The White People," and "The Three Imposters"
Edgar Allen Poe
As mentioned above, Lovecraft credits Poe with inventing the modern tale of terror and the macabre, and he adored him.  Lovecraft wrote, "When I write stories, Edgar Allen Poe is my model" and "Poe has probably influenced me more than any other writer."  Now, Poe's greatness is not up for argument, but when studying Lovecraft's writing, especially his use of madness and illusion, Poe's influence is obvious.
Read: Everything, but, if you are looking for some of Lovecraft breadcrumbs, start with "The Masque of the Red Death" and "The Raven"