7 Scariest Movie Santas To Keep You Awake on Christmas Eve
Christmas, the holiday of cheer and joy and over-commercialization. Family and friends sharing gifts and meals. Pine trees spread with tinsel and Christmas lists from anxious children. But behind all of the bulbs and stars, is a seedy, dark world. Christmas can be a terrifying holiday. This frigid holiday brings sinister elves, a naughty list, and, most of all, a large man in a red suit climbing down your chimney. While the Krampus has become popular culture's image of Christmas horror as the child-eating anti-Santa, St. Nick is a terrifying figure himself. These films show you that a cheerful holiday is right around the corner from a fearful one (cheesy pun intended).
Warning: Spoilers Abound!
Saint (2010) dir. Dick Maas
Most creepy Santa's are not the real Santa, but this, this sinister Santa is the real deal. Saint, a Norwegian horror film, follows the traditional Dutch and Belgian tradition of St. Nicholas (Sinterklaas). On his own birthday, December 5th, Sinterklaas awakens and rides across rooftops on his white horse dropping presents down good children's chimneys. In this film, Sinterklaas is sadistic in his rampaging as he kidnaps and terrorizes children (and teenagers). Forget dropping presents, this Santa wants revenge for his own murder centuries ago, and he is willing to take every naughty child him.
Most terrifying scene: A burning scene in which a saintly-dressed Sinterklaas burns until his face melts off.
American Horror Story: Asylum (2012)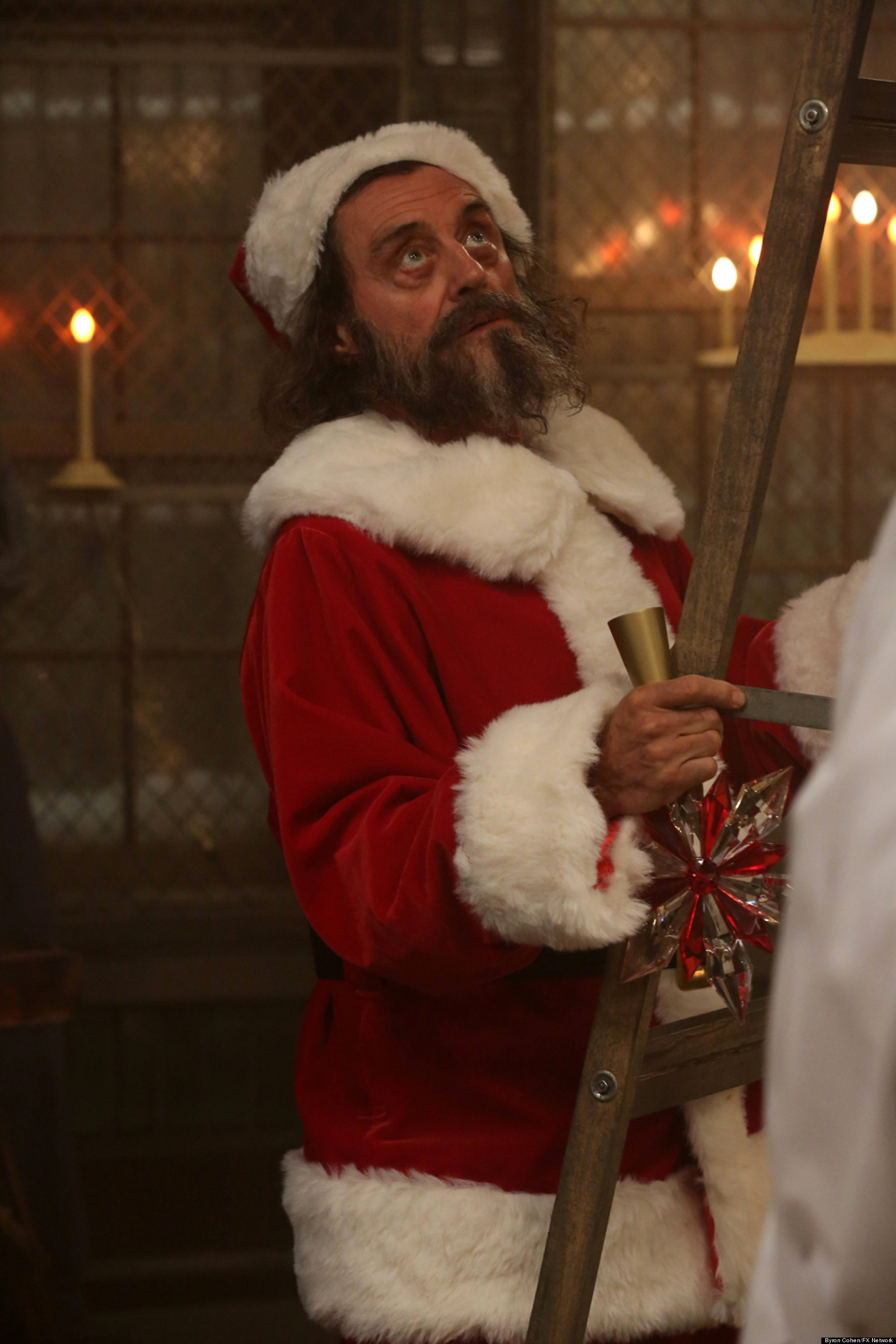 Santa can be a real sicko, and American Horror Story took the classic serial killer Santa and made him worse. Well, maybe it is just Ian McShane's terrifying wrinkles and beard under that hat, but his performance has become the end-all-be-all of serial killer Santa performances. One a path of revenge for his poor treatment in the asylum, Leigh Emerson reclaims his Santa costume to commit more terror in the name of Father Christmas. With a throat full of gravel, McShane provides his episodes with a sinister gravitas that only an actor of his stature can muster.
Most Terrifying Scene: A broken, defeated Ian McShane sits, crumpled, in the corner of his cell when a nun throws his old Santa costume to him.
A Christmas Story (1983) dir. Bob Clark
We have all seen the movie, and many of us have it memorized. The leg lamp, the bunny costume, and the puffy coat are the center of awful Christmas jokes every year, but this movie is no laughing matter. For many of us, one scene provides recurring nightmares and ruined mall trips – the Santa visit. What makes Ralphie's Santa visit so horrifying is the reality that he will not get what he wants for Christmas, and even the big man will not let you have it. His bleached white beard and too red nose only make the image worse. Then his voice, oh God his voice, as he bellows his Ho! Ho! Ho! as he pushes Ralphie down the slide with his filthy boot tops it off. Mall Santas take note – this is one scary Santa. Bob Clark was coming off of his Santa-less Christmas horror hit Black Christmas (1974) when he directed A Christmas Story so he brings some scare cred to the party.
Most Terrifying Scene: Well, the Santa scene. He only needs one.
Silent Night, Deadly Night (1984) dir. Charles E. Sellier Jr.
Oh, what is a traditional American Christmas without the iconic image of Santa Claus, in his red suit, with a sack of gifts on one shoulder and an axe on the other. Um, well that got creepy fast. There are many Santa-with-an-axe movies, but Silent Night, Deadly Night is one of the best. What makes this Santa so scary is his story. Recognizing the success of Friday the 13th, horror filmmakers wanted sympathetic psychopaths, not unlike Mrs. Voorhees. In SIlent Night, Deadly Night, a young boy watches his parents' murder at the hands of a man in a Santa suit. He is, then, raised in a orphanage where he is abused at the hands of Mother Superior. As an adult, Billy's job as a video store clerk forces him to wear a Santa suit for Christmas, and, well, so much for sanity. This baby-faced, teenage serial Santa takes the award for most-unlikely-to-don-a-Santa-suit in this horror filled with plenty of inventive kills.
Most Terrifying Scene: A slow strangulation by Christmas lights (points for originality).
Tales from the Crypt: And All Through the House (1989) dir. Robert Zemeckis
The most fun story on this list is the Tales from the Crypt episode "And All Through the House." A woman murders her husband only to become the victim of an escaped mental patient dressed as Santa Claus. What makes this episode so great is the fun performance by Larry Drake (LA Law, Darkman) as Santa. Drake wears a constant look of madness and terror on his face that transforms into vulnerability so believably. I did not realize, until writing this article, that this Tales From the Crypt episode was directed by Robert Zemeckis. Robert-freaking-Zemeckis. Like Back to the Future, Who Framed Roger Rabbit, and Forrest Gump Robert Zemeckis, and, boy, he directs this with style. The tension as Santa tries to get into the house as the wife attempts to dispose of her husband's body is tremendous.
Most Terrifying Scene: A mad, axe-wielding Santa appears behind this wife as she thinks the cops are investigating the house.
Rare Exports (2010) dir. Jalmari Helander
My personal favorite horror Santa is in 2010's Rare Exports. This film is full of original, deep mythology of giant, humanoid creatures buried deep in the Earth that inspired the image of Santa Claus. This Finnish film makes Santa a monster, not a serial killer or a legend, but a movie monster. A group of archaeologists uncover "the largest burial mound in the world" only to uncover supernatural beings punish naughty children. The stakes rise when a reindeer herder captures one of the beasts. Rare Exports is a difficult film to classify since it has elements of horror, fantasy, coming-of-age tale, and dark comedy, but it is a special, and terrifying, film that you need to seek out.
Most Terrifying Scene: When the reindeer herders realize they might not have captured the real Santa-beast.
Christmas Evil (1980) dir. Lewis Jackson
No one really cares that Rare Exports is my favorite evil Santa movie. So, how about one of John Waters's favorite films ever, Christmas Evil. Waters directed Hairspray, Pink Flamingos, and Polyester so that makes him the king of sick. Christmas Evil is truly terrifying, and is often considered the best holiday horror film next to John Carpenter's Halloween. Christmas Evil offers a complicated psychopath for the sinister Santa. A boy is traumatized when he discovers that Santa is not real by catching Santa getting jolly with his mom on Christmas Eve. As an adult, that boy, now a toy-maker, becomes obsessed with, both, making toys children will love and analyzing the way children think. Society is not kind to grown men who hang around small children, and he is met with cynicism and anger. It is safe to say that he snaps.
Most Terrifying Scene: A toy soldier becomes a tool for retinal surgery.