Kiviak and 6 other Gross Christmas Foods
Ah Christmas, a time for holiday cheer, family love, and really weird food. If you want something a little more terrifying than the Christmas ham this year, try these 7 bizarre Christmas foods from around the world.
1. Mopane
In South Africa, the deep fried caterpillars of the Emperor Moth are a favorite Christmas snack.
2. KFC
That's right. KFC. In Japan, the classic Christmas food is a bucket of fried chicken. Festive.
3. Mattak
Greenland really goes above and beyond when it comes to odd food, and their first entry in today's list is mattak, the classic Christmas dish of whale skin and blubber. Yummy.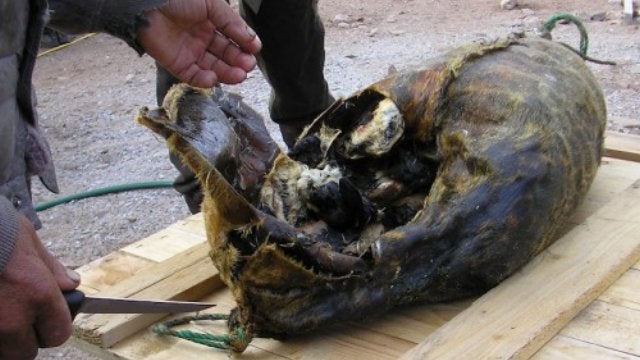 4. Kiviak
Here we have Greenland one-upping themselves. Kiviak is made by filling a seal skin with auks (birds) and leaving it to ferment for many months. For Christmas, Greenlanders remove the fermented birdies and feast.
5. Smalahove
From Greenland, we'll be moving into the Norwegian entries, also strong contenders for most vomit inducing. Smalahove is torched, smoked, and boiled sheep's head served before Christmas.
6. Lutefisk
The classic Norwegian holiday tradition, lutefisk is whitefish soaked in lye (yes, the same kind of lye that you make soap out of). Of course, humans can't actually eat lye, so after the lye the fish is soaked in cold water for a few days, and only then is it ready to be cooked and eaten.
7.  Haggis
Our final entry comes from Scotland and does not encourage anyone to try a lot of Scottish cuisines. Haggis is the innards of a sheep (heart, liver, and lungs) stuffed with a savory pudding and simmered for a long while. I'm uncertain what the casing adds, but it appears to be important.