11 of SNL's Most Successful Cast Members
This year marks the 40th anniversary of Saturday Night Live and to honor that, the show hosted a very special event with an all-star guest list ranging from Paul McCartney to Taylor Swift. Along with several well-known celebs, the show also brought back some of their most memorable cast members. Let's take a look back at some of SNL's most successful alumni.
1. Steven Martin
Well-known for his iconic roles in movies such as Father of the Bride, Martin is easily one of the most notable actors to come out of SNL.
2. Ben Stiller
He may be one of the most successful SNL alumni, but his time there was short. Stiller appeared in season 14 but left after four episodes due to creative differences. Even so, he returned later in 1998 and 2011 as host.
3. Eddie Murphy 
Despite being one of the youngest cast members on SNL (he was 19 when he first joined) Murphy made waves on SNL when the series was going through major production changes. He eventually left to pursue his acting career full-time.
4. Adam Sandler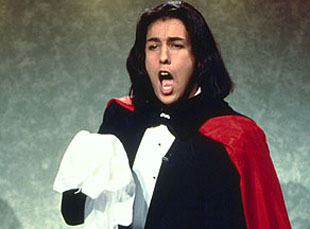 Sandler actually started his SNL career not as an actor but as a writer. Following his time on the show he used his creative talents to produce Happy Madison Productions, which gave him one of the most successful box office careers of any SNL alum.
5. Will Ferrell 
Ferrell was definitely one of the funniest SNL cast members both on the show and in his acting career later. He's also one of the few cast members who were able to keep a straight face during skits.
6. Mike Myers 
Myers was known for his diverse character roles including his most notable, Wayne Campbell, which eventually steered into two movies. Today he is still portraying diverse characters from Austin Powers to Cat in the Hat.
7. Amy Poehler 
Right now, she is known for her role on Parks and Recreation, but back then Poehler was just as quick with her humor. During her first season, Poehler was promoted to full cast member (only two other cast members have done the same). She is also known for co-anchoring the "Weekend Update" and her impersonations of Hillary Clinton during elections.
8. Tina Fey
Not only did Fey portray women who "get stuff done" in her sketches, she also portrayed this in her career. While Fey juggled writing and performing for SNL, she eventually became the first female head writer.
9. Kristen Wiig
When big names such as Poehler and Fey left the show to pursue other careers, Wiig quickly gained the spotlight with more memorable sketches. During her time at SNL, she earned four consecutive Emmy nominations. Even after her time at SNL, she received an Academy Award nomination for her movie Bridesmaids.
10. Jimmy Fallon
During his time on SNL, he was well-known for co-anchoring the "Weekend Update" with Tina Fey. Not only did he pass on his legacy on SNL to Seth Meyers, he also passed on his legacy to him when he took over The Tonight Show in 2014, giving Meyers, Late Night.
11. Andy Samberg 
Of the most recent SNL cast members, Andy Samberg has done wonders with his acting career. On the show, he was most noted for his Digital Shorts one of which earned him an Emmy. Along with the success of The Lonely Island, Samberg is now a Golden Globe winner for his show Brooklyn Nine-Nine.